Publications
With over two million copies in print, our publications are reaching thousands of families and schools in countries around the world. With your help, we are creating a kinder, happier, and more bucketfilling world!
Halle and Tiger with their Bucketfilling Family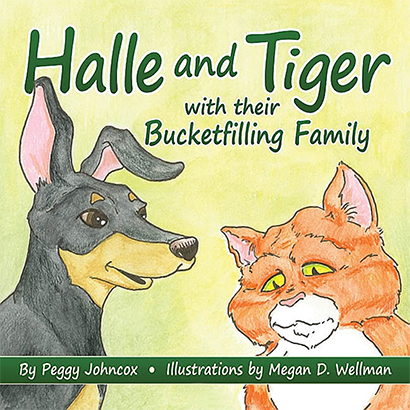 By Peggy Johncox
Illustrated by Megan D. Wellman
For Ages 4 - 8
32-page picture book
Published: November 30, 2010
ISBN: 9781933916750
Paperback ($10.95)

DESCRIPTION:
Halle has her job cut out for her; she has to teach the new cat, Tiger, all about bucket filling. But Tiger keeps making mistakes; sleeping in Halle's bed, jumping up on the counter, and swiping something that doesn't belong to him. With the help and understanding of the whole family, will Halle be able to teach Tiger about bucketfilling? Filled with delightful illustrations along with bucketfilling and bucketdipping facts, Halle and Tiger with their Bucketfilling Family will make an excellent addition to any library.

ALSO AVAILABLE AT:
REVIEWS:

"I enjoyed the idea that there is a whole family of bucket fillers and that they continued to fill the bucket of their newest member, even while the new addition made mistakes and learned to be a bucket filler." - Kristin Snyder, mother and attorney

"This is a well-written book that encourages responsible pet ownership while delivering the very positive message of bucket filling." - Sarah L. Mews, Operations Manager, Humane Society of Livingston County

"Bucketfilling fun! What a great concept for children to learn and practice into adulthood." - Kurt and Kristine Gerster, DVM
READER COMMENTS:

"Delightful book for pre-school through second grade children"

"My children loved the story and pictures."

"The characters are heart-touching, and their messages are important for both children and adults."
ADDITIONAL FORMATS AVAILABLE:
Halle and Tiger with their Bucketfilling Family
E-book edition of Halle and Tiger
Available from Kindle Amazon
WINNER OF ELEVEN AWARDS:

2012 - Silver, Animals/Pets, Living Now Book Awards

2012 - Finalist, Children's Educational, International Book Awards

2012 - Gold, Inspire - Mentor - Educate, Young Voices Foundation Book Awards

2012 - Second Place, Animals/Pets, Purple Dragonfly Book Awards

2013 - Second Place, Children's Outstanding Achievement in Fiction, Lucky Cinda Publishing Global Book Contest

2013 - Best Books, Animals & Pets, NABE Pinnacle Achievement Book Awards

2013 - Gold, Children's Picture Books: Growing Up/Personal Growth, Mom's Choice Awards

2013 - Winner, Pets, Animals, Animals, Animals Book Festival

2013 - Honorable Mention, Children's Books, London Book Festival

2014 - Winner, Best Children's Educational Books, NABE Summer 2014 Pinnacle Book Achievement Awards

2017 - Winner, Children's: Life Lesson Books, John E. Weaver Excellent Reads Awards