The Bucket Fillers Team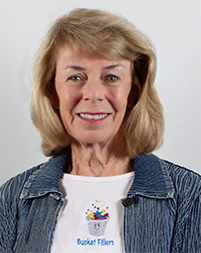 Carol McCloud, the "Bucket Lady"
Founder, President, Author and Speaker
Carol McCloud is a bestselling author, speaker, and early childhood specialist. As founder and president of Bucket Fillers, Inc., an educational company based in Michigan, she and the Bucket Fillers Team have worked to help all ages grow in kindness, self-control, resilience, and forgiveness, all leading to a happier life.
Carol has penned several bestselling, bucketfilling books that have been translated into nine different languages and sold nearly 3 Million copies. Her works have captivated all ages since her first bookook, Have You Filled a Bucket Today? A Guide to Daily Happiness for Kids, was published in 2006. Thousands of schools around the world actively use the bucketfilling series as the basis for their character development program. It's Carol's desire to help audiences of all ages understand the importance of always being kind (bucket filling) and the motives behind the unkind (bucketdipping) habits of behavior in order to reduce bullying and prevent the serious damage that bullying can cause.
The bucketfilling books are available wherever books are sold.

Reviews:

"Carol was great. Her presentation style is engaging and worked really well with what we had in mind. She went above and beyond our expectations!"

"Carol was the best! Very inspirational! Well received by all!"
Photo by Steve Cyrulewski of
In Your Element Studios
.