Due to the coronavirus pandemic, we are postponing all full-day, in-person sessions until July 2021. There is a tremendous amount of uncertainty with regard to the virus. We remain hopeful that we will be able to launch these sessions at that time.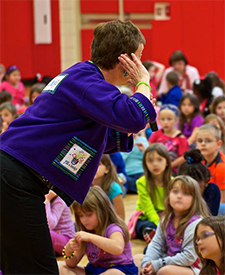 We're looking forward to visiting your organization!
Why Book?
The best reason to book a Bucket Fillers presentation is because you want to create a bucketfilling school, workplace, family, or community. We both win when your goals are consistent with our goals:
To create more rewarding lives and a positive culture as you increase kindness, respect, and courtesy;
To decrease mean-spiritedness and negativity; and
To learn how to keep your bucket filled by understanding and rising above occasional bucketdipping situations.
Our sessions, like each of our books, have a "call to action" because results come with doing not hearing. We want you and your audience to leave with a personal commitment to do your best to be bucket fillers, not to dip, and to use your lid to protect your bucket and the buckets of other people. We'll teach you how to use reminders, recognition, and rewards and the understanding that the doing is up to each individual.
In the data we've collected from the schools we've visited (since August 2012), 89% have seen an increase in bucket filling or acts of kindness with their students; 70% have seen an increase in bucket filling, team spirit or acts of kindness with their staff; and 90% have seen a reduction of negativity, bullying or unkindness within their schools. As you can see, nothing but positive results! Here are a few comments:
"I think you do a great job. The philosophy behind the program is great. I also like that it is in a form that is easily understood by all ages. Keep up the good work."
"Bucket filling is spreading! It is such a positive way to treat people and live your life to its fullest."
"Thank you for spreading the message of optimism and hope for a school environment that promotes positive relationships."
"Our school is thriving with bucket fillers!"
"The message related well not only to the young children but to the older children, teachers and parents."
"This program has touched our students, staff and community in a very powerful way."
"This concept is the most applicable way I know to promote kindness at the elementary grade levels."
Feel free to contact any school or other organization on our List of Bucketfilling Organizations for a referral or email our office for more information.
What do you recommend as the best use of our funds?
Because the Bucket Fillers mission is to create bucketfilling schools, families, workplaces, and communities, we believe the best investment is bucketfilling training for adults because the culture and language start at the top and trickle down to all.
We therefore recommend inclusive, district-wide staff development training at all levels, from primary through secondary education, to help insure that each child succeeds and graduates from one level to the next with good mental, emotional, and social health and a full bucket. When all the leaders and staff understand the importance of keeping their own buckets full and of filling the buckets of others, they practice it, teach it, and together create a bucketfilling environment of kindness, respect, and support for all.
Do you offer any discounts or know of any funding available for presentations?
In fairness to all schools and organizations, our per session and per diem rates are reasonably priced, equal for all, and listed under Training Opportunities.
Our Team has compiled various grants and other fundraising information, as listed under Grants and Fundraising, to help schools and other non-profit organizations seek financial assistance in order to become a bucketfilling school/organization through our unique and positive programs.
Our presentations also come with a great fundraising opportunity in which you can earn 50% of group book sales. For instance, if you order 100 books at $10 each, you earn $500. Your book sales may cover a significant part of your training investment.
How to Book?
It is easiest to email our office at support@bucketfillers101.com with your name, current email address, organization name, location, possible dates, and training interest.
We openly list our Presentation Rates under Training Opportunities. While we may occasionally schedule a last-minute event, most of our sessions are scheduled 2-6 months in advance. We do not require a signed contract for most events. However, we do require a $200 deposit for out-of-state sessions. Please note the maximum audience size for each session listed under Training Opportunities.
What You Can Expect
Once we have booked your date on our calendar by email or phone, you will receive an email confirmation of your date and times, our fee, room set-up suggestions, book order form, and AV needs.
One to two weeks prior to your presentation date, you will receive a phone call from a member of your Presenter Team to confirm our arrival time and location instructions, exchange mobile contact numbers, review the room set-up and schedule, and any recommended follow-ups. We typically arrive 30-45 minutes in advance of a session and have never been late or missed a session.
We promise to fill your bucket by being prompt, warm, courteous, and helpful from the day you first contact us. We promise to review your needs, arrive on time, and deliver all we promise. We are high energy and low maintenance. We want you to have fun, but more importantly, we want to make a positive difference in your life!
It would also fill our buckets very much if you would send us a short, personal note about our Bucket Fillers session(s) and the value and benefit to your organization, giving us permission to use you as a testimonial. Shortly after our presentation, you will also receive a short anonymous survey by email. Our office staff and each of our presenters have a 100% satisfaction rate and we welcome your honest feedback. Thank you!