Publications
With over two million copies in print, our publications are reaching thousands of families and schools in countries around the world. With your help, we are creating a kinder, happier, and more bucketfilling world!
My Very Own Bucket Filling from A to Z Coloring Book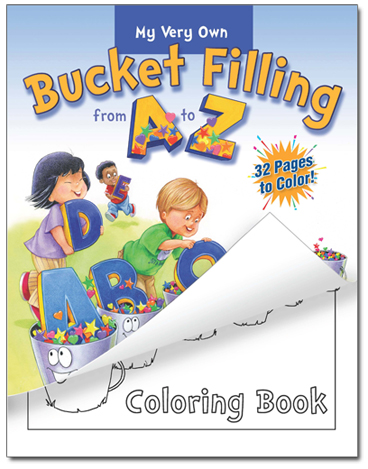 By Carol McCloud and Caryn Butzke
Illustrated by Glenn Zimmer
For Ages 4 - 9
32-page coloring book
Published: May 15, 2014
ISBN: 9780996099905
Paperback ($3.95)
Description:
Ideal for home or classroom, this 32-page coloring book is a supplement to the award-winning, rhyming picture book, Bucket Filling from A to Z: The Key to Being Happy. Educational and entertaining, this book offers hours of coloring fun as children engage with dozens of pages while learning all about bucket filling!

Winner of Two Awards:

2014 - Bronze Medal, Gift/Specialty/Keepsake Books, Living Now Book Awards

2015 - First Place, Activity Books, Purple Dragonfly Book Awards