Buddy the Bucket Filler: Daily Choices for Happiness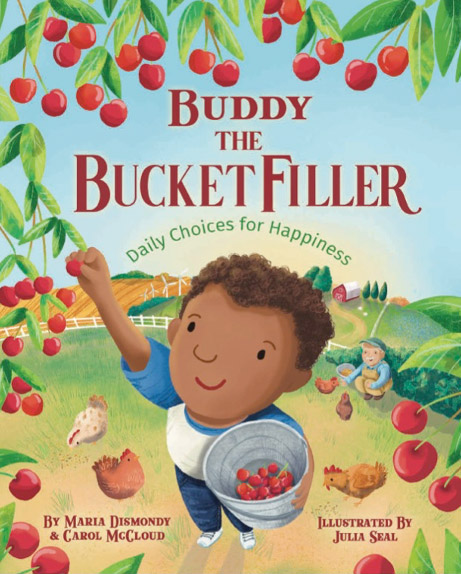 By Maria Dismondy and Carol McCloud
Illustrated by Julia Seal
For Ages 5 – 7
Lexile® Measure: 630L
32-page picture book
Language: English
Published: August 1, 2021
FORMATS AVAILABLE:
Paperback – 9781945369421 ($12.95 USD)
Hardcover – 9781945369254 ($17.95 USD)
DESCRIPTION:
Join Buddy, a city boy, as he eagerly anticipates his visit to his Uncle Frank's countryside farm. With farm animals and a chicken coop, there's never a dull moment! To make things even better, Buddy's dad hands him his allowance for the week, leaving Buddy with endless possibilities for how to spend the money. This heartwarming story teaches the concept of bucket filling – the act of spreading kindness and increasing happiness for everyone. Will Buddy choose to spend his allowance doing good? You'll have to read to find out!
Buddy the Bucket Filler is an inspiring story that teaches children how to spread kindness and fill each other's buckets with happiness.  With ideas for reading (before, during, and after), it encourages readers to discover acts of kindness and bucket filling!
Co-authors Maria Dismondy and Carol McCloud and illustrator Julia Seal have joined forces to bring you this heartfelt story. This book comes with a free Reader's Guide, available on the Cardinal Rule Press website, that includes lesson plans, activities, and discussion questions that expand on the story and deepen the reading experience.
AVAILABLE AT: