Publications
With over two million copies in print, our publications are reaching thousands of families and schools in countries around the world. With your help, we are creating a kinder, happier, and more bucketfilling world!
Bucket Filling from A to Z: The Key to Being Happy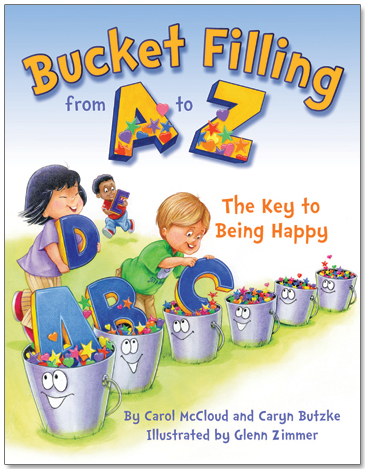 By Carol McCloud and Caryn Butzke
Illustrated by Glenn Zimmer
For Ages 4 - 9
32-page picture book
Published: September 1, 2017 (PB), August 1, 2013 (HC)
ISBN: 9780997486438 (PB), 9781938326189 (HC)
Paperback ($9.95), Hardcover ($17.95)
E-book formats also available (see below).
DESCRIPTION:
This award-winning book uses the letters of the alphabet to help young and old see the many, simple ways that they can fill buckets and fill their own buckets in return. When you help children become bucket fillers, you give them the key to happiness...for it is in friendship, love, and good will to others that we are truly happy. Yes, bucket filling is the moment by moment choice to be kind and caring. Teaching and encouraging children to be bucket fillers is one of the greatest gifts you can give to them.

ALSO AVAILABLE AT:
REVIEWS:

"Authors Carol McCloud and Caryn Butzke do a beautiful job of weaving a story of how an individual can be happy using the letters A to Z as bucket fillers. They carefully explain at the beginning of the book that people fill others' buckets every day in various ways. Soon they take the reader along this alphabetical journey, exploring how each letter can display a word that will enable the reader to learn about how that particular letter/word can help the reader to become a better bucket filler. Taking a young reader through the alphabet, letter by letter, and examining what that letter could represent is fun and creative. This is a joyful way to expose a child to new words and positive ways of making one choose happiness over being sad and rejected." - Darin Bodby, Readers' Favorite Book Reviews
READER COMMENTS:

"A very impressive book! The language takes me back to a Dr. Seuss' books. The message is something every person could use to improve their quality of life. . . This reminds me of the joy of reading Dr. Seuss titles with the snappy language and rhyming. I enjoyed the stories and artwork."

"Gives kids of all ages examples from A to Z of being good friends, preventing bullying and ways to build self-esteem in themselves and others."

"What a wonderful book to teach young children. Children learn well by putting the story in rhyme."

"Bucket Filling from A to Z has become one of my favorites and I will be glad to share it with our students!"
ADDITIONAL FORMATS AVAILABLE:
Bucket Filling from A to Z: The Key to Being Happy
Kindle e-book edition of Bucket Filling from A to Z
Available from Amazon

Bucket Filling from A to Z: The Key to Being Happy
Nook e-book edition of Bucket Filling from A to Z
Available from Barnes & Noble

Bucket Filling from A to Z: The Key to Being Happy
iTunes e-book edition of Bucket Filling from A to Z
Available from Apple iTunes

Bucket Filling from A to Z: The Key to Being Happy
E-book edition of Bucket Filling from A to Z
Available from OverDrive

Bucket Filling from A to Z: The Key to Being Happy
E-book edition of Bucket Filling from A to Z
Available from Rakuten kobo

WINNER OF THIRTY-ONE AWARDS:

2013 - Bronze Medal, Mind-Body-Spirit/Self-Esteem Books, Moonbeam Children's Book Awards

2013 - Honorable Mention, Children's Books, Southern California Book Festival

2013 - Gold Medal, Children's Picture Books, Developing Social Skills, Mom's Choice Awards

2013 - Honorable Mention, Children's Books, The Great Midwest Book Festival

2013 - Best Children's Interest Book, NABE Pinnacle Book Achievement Awards

2013 - Honorable Mention, Children's Books, London Book Festival

2014 - Honorable Mention, Children's Books, Los Angeles Book Festival

2014 - Honorable Mention, Children's Books, The Great Southwest Book Festival

2014 - Honorable Mention, Children's Books, The Great Northwest Book Festival

2014 - Winner, Children's Books, The Great Southeast Book Festival

2014 - Silver Medal, IBPA Benjamin Franklin Book Awards, Interior Design (3 or More Color - Children's/Young Adult)

2014 - Honorable Mention, Children's Books, The Paris Book Festival

2014 - Honorable Mention, Children's Books, The Green Book Festival

2014 - Finalist, Children's Picture Book: Softcover Non-Fiction, The International Book Awards

2014 - Finalist, Children's Novelty & Gift Book, The International Book Awards

2014 - Honorable Mention, Children's Books, New York Book Festival

2014 - First Place, Picture Books - 5 & Younger, Purple Dragonfly Book Awards

2014 - First Place, School Issues Books, Purple Dragonfly Book Awards

2014 - Second Place, Charity/Making a Difference Books, Purple Dragonfly Book Awards

2014 - Honorable Mention, Children's Books, Hollywood Book Festival

2014 - Silver Medal, Children's Non-fiction Books, Florida Authors & Publishers Association President's Awards

2014 - Silver Medal, Children's - Educational Books, Reader's Favorite Book Awards

2014 - Winner, For the Family Books, Learning Magazine Teacher's Choice Awards

2014 - Honors Award, Children's Books, National Parenting Publications Awards

2014 - Bronze Medal, Picture Books - Preschool, Moonbeam Children's Book Awards

2014 - Finalist, Children's Mind/Body/Spirit Books, USA Best Book Awards

2015 - Runner-up, Children's Books, Florida Book Festival

2015 - Honorable Mention, Children's Books, Amsterdam Book Festival

2015 - Honorable Mention, Children's Books, San Francisco Book Festival

2015 - Honorable Mention, Children's Books, Beach Book Festival

2015 - Honorable Mention, Children's Books, Pacific Rim Book Festival
ADDITIONAL HONORS:


2014 - Story Monster Approved for Preschool - Kindergarten Books

2014 - Story Monster Approved for Grades 1 - 3 Books