Publications
With over two million copies in print, our publications are reaching thousands of families and schools in countries around the world. With your help, we are creating a kinder, happier, and more bucketfilling world!
Fill a Bucket: A Guide to Daily Happiness for Young Children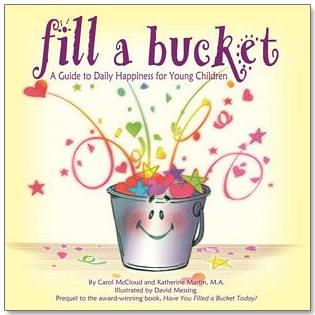 By Carol McCloud and Katherine Martin, M.A.
Illustrated by David Messing
For Ages Birth - 7
24-page picture book
Published September 1, 2017 (PB), February 1, 2018 (HC)
ISNB: 9780996099974 (PB), 9780996099981 (HC)
Paperback ($8.95), Hardcover ($9.95)
DESCRIPTION:
This award-winning prequel to Have You Filled a Bucket Today? is the perfect gift for anyone with little ones they love. When children have their buckets filled and learn how they can fill other people's buckets too, they understand how special, valuable, and capable they are.

ALSO AVAILABLE AT:
REVIEWS:

"Here's a delightful little book to warm the hearts of young children and teach them how to experience the joy of giving and receiving. Just think of all the little buckets this book will fill with love and encouragement." - Dr. Kevin Leman, author of Have a new Kid by Friday

"I'm simply amazed at how children, including my own preschool grandchildren, enjoy this book and love being bucket fillers. This adorable book offers the simplest and most effective early childhood character development I've seen in my 30 years of teaching." - Kathleen Dunham, M.A., Early Childhood Educator, University of Michigan - Flint
READER COMMENTS:

"A perfect baby shower gift that fills everyone's bucket!"

"A MUST have for new parents!"

"My kindergarten kids always enjoy this book and love to talk about what they did that day to fill a bucket."
ADDITIONAL FORMATS AVAILABLE: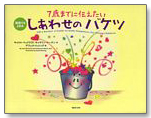 7歳までに伝えたいしあわせのバケツ
Japanese translation of Fill a Bucket
Available from "Amazon Japan"

WINNER OF FOUR AWARDS:

2008 - Top 10 Children's Books, Best You Can Be Foundation

2009 - Gold Medal, Children's Picture Books, Developing Social Skills, Mom's Choice Awards

2013 - Honorable Mention, Family Matters Books, Purple Dragonfly Book Awards

2013 - Honorable Mention, Picture Books - 5 & Younger, Purple Dragonfly Book Awards