Publications
With over two million copies in print, our publications are reaching thousands of families and schools in countries around the world. With your help, we are creating a kinder, happier, and more bucketfilling world!
Growing Up with a Bucket Full of Happiness:
Three Rules for a Happier Life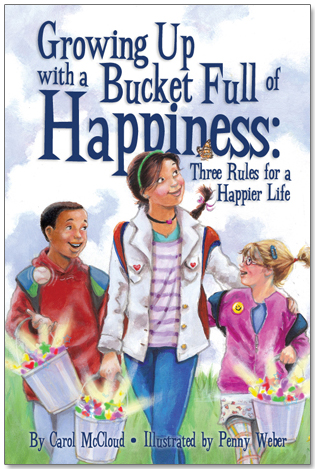 By Carol McCloud
Illustrated by Penny Weber
For Ages 9 and Up
88-page chapter book with 47 color illustrations
Published: November 15, 2010
ISBN: 9781933916576
Paperback ($9.95)
DESCRIPTION:
Do you know you have an invisible bucket which is filled with all of your good thoughts and feelings? If you're new to the concepts of bucket filling and bucket dipping, then this award-winning book is for you. This sequel to Have You Filled a Bucket Today? features easy-to-read chapters, colorful illustrations, and daily questions to help readers become better bucket fillers and give them the tools to live a life filled with happiness.

ALSO AVAILABLE AT:
REVIEWS:

" When I got this awesome new addition to my bucket books I had a little fun with it. So I hid it behind my back when I showed it to my 3-5th graders. I knew they'd be a little shocked and excited about this new one - because it is totally geared to their age. And of course when I showed what I was hiding, they were eagerly wanting me to read it and wanted to know when it would also be available in our school library. It's a chapter book and well . . . it's PERFECT. The kids are learning all kinds of new things about bucket filling." - Roxanne Davison, blogger of Books That Heal Kids
READER COMMENTS:

"There are a lot of people who need to read this book."

"I wish I knew about my lid a long time ago. I could have used it."

"Bucket filling is the best thing that ever happened to our school."
WINNER OF EIGHTEEN AWARDS:

2010 - Honorable Mention, Young Adult Books, DIY Book Festival

2010 - Honorable Mention, Young Adult/Teenage Books, New England Book Festival

2010 - Honorable Mention, Teenage Books, London Book Festival

2010 - Honorable Mention, Young Adult Books, Los Angeles Book Festival

2011 - Best Children's Interest Book, NABE Pinnacle Book Achievement Awards

2011 - Gold Medal, Juvenile Level 2 Books, Inpirational/Motivational, Mom's Choice Awards

2011 - Grand Prize, Purple Dragonfly Book Awards

2011 - First Place, Charity/Making a Difference Books, Purple Dragonfly Book Awards

2011 - First Place, School Issues Books, Purple Dragonfly Book Awards

2011 - Gold Medal, Juvenile/Young Adult Non-Fiction Books, Young Voices Foundation Awards

2011 - Finalist, Children's Books, Mind/Body/Spirit, USA Best Book Awards

2012 - Runner-up, Teenage Books, San Francisco Book Festival

2012 - Gold Medal, Juvenile - Teen - Young Adult Non-Fiction Books, IPPY Book Awards

2012 - Runner-up, Young Adult Books, Southern California Book Festival

2013 - Runner-up, Young Adult Books, The Great Southwest Book Festival

2013 - Runner-up, Young Adult Books, The Great Northwest Book Festival

2013 - Runner-up, Young Adult Books, The Great Southeast Book Festival

2013 - Honorable Mention, Young Adult Books, Paris Book Festival