Publications
With over two million copies in print, our publications are reaching thousands of families and schools in countries around the world. With your help, we are creating a kinder, happier, and more bucketfilling world!
¿Has Llenado una Cubeta Hoy? Una Guía Diaria de Felicidad para Niños
Bilingual Spanish/English translation of
Have You Filled a Bucket Today?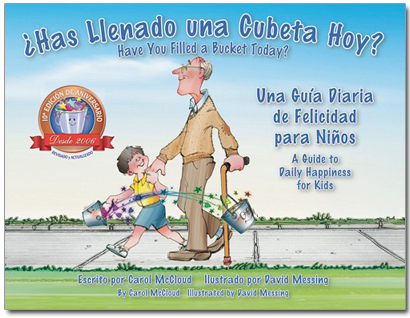 By Carol McCloud
Illustrated by David Messing
For Ages 4 - 9
32-page picture book
Published: October 1, 2017
ISBN: 9780996099950
Paperback ($9.95)

DESCRIPTION:
The best-selling, award-winning, 32-page picture book has now been translated into Spanish! Por medio de prosa simple y dulce, y las ilustaciones vivas, de este tierno libro anima al comportamiento positivo asi muestra a los niños que fácil y gratificante es expresar como ser simpatico, apreciado, y amado todos los dí­as.

ALSO AVAILABLE AT:
REVIEWS:

"Un juego de niños se hace como un simbolo universal de cuidado y aprendizaje. Carol McCloud guí­a a los lectores como crear un mundo mejor en donde vivir. Su simbolismo de llenar la cubeta está escrito con una simplicidad clara, para obtener resultados poderosos."
- Donna DeWitt-Schnell, maestra de educación pública po 30 años; 2005-2006 Lake Orion, Michigan, Middle School es Maestra del Año, madre y abuela.


"Este libro encantador lleva al lector a sacar sabiduría de su proprio corazón. El poder de las afirmaciones y las acciones que fortalecen a las familias y extiende la felicidad, se captura en un concepto simple y constante de llenar las cubetas."
- Karen Wells, Orientadora familiar; trabajadora en salud mental de clinica; conserja y maestra; madre y abuela.
READER COMMENTS:

"Book is is well translated as it's original. A winner!"

"I'm so happy this book is available in a Spanish/English format. It's a great addition to our classroom library."

"Fantastico!"
WINNER OF TWO AWARDS:

2013 - Best Children's Bilingual Book, NABE Pinnacle Book Achievement Awards

2013 - Honorable Mention, Children's Books, Paris Book Festival