Publications
With over two million copies in print, our publications are reaching thousands of families and schools in countries around the world. With your help, we are creating a kinder, happier, and more bucketfilling world!
My Bucketfilling Journal: 30 Days to a Happier Life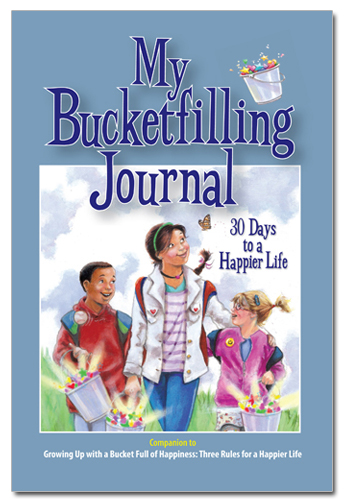 By Carol McCloud
Illustrated by Penny Weber
For Ages 9 and Up
64-page paperback journal
Published: December 1, 2017
ISBN: 9780997486407
Paperback ($4.95)
DESCRIPTION:
This helpful companion to the book, Growing Up with a Bucket Full of Happiness: Three Rules for a Happier Life, is a journal designed to put bucketfilling knowledge into action and create a happier life for its young reader. In addition to the Bucket Fillers Pledge and the three rules and three laws of bucket filling, the journal features a thirty-day plan for filling buckets for thirty days, which includes eight self-reflection questions and 30 pages on which to record daily thoughts and bucketfilling experiences.

We also have the journal pages available on our Resources page for you to download and print.
ALSO AVAILABLE AT:
READER COMMENTS:

"I bought this as a gift for one of my clients after we had read the Bucket books.  She is 11 years old and excited about the concept.  I highly recommend it as a therapist."
WINNER OF ONE AWARD:

2012 - Silver Medal, Journal/Planner/Calendar, Living Now Book Awards